XCELERATE GYMS are THRILLED to announce that we have been shortlisted for not one, but TWO National Fitness Awards!
The Best Membership Campaign Award is designed to recognise innovative, successful campaigns, whether that's through social media, direct, open days, print media or other channels or a combination of them all.
The Newcomer of the Year Award is a hotly contested category, with entries from some of the best new gyms in the whole of the country. We are super honoured to have XCELERATE GYMS Edgeware shortlisted for this category.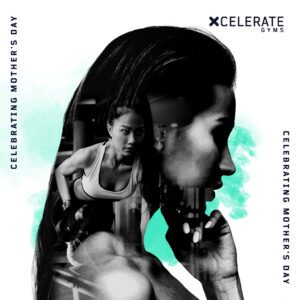 NFAs 2022 – Best Membership Campaign 
In honour of International Women's Day 2022, XCELERATE GYMS celebrated the occasion for the entire month of March.
To commemorate 111 years since the first International Women's Day, any female who joined in March got their first 11 days' membership for free. Current female members were given 11 days of complimentary Fuel Station smoothies.
To bring the campaign to life, powerful bespoke creative assets were designed and used across XCELERATE GYMS' digital channels. For each day of March, the gym posted daily via social media in recognition of women who have impacted society worldwide, including success stories from female gym members.
The gym also ran a week of women's only challenges, with female members competing against XCELERATE GYMS' Coaches Lubaina and Olivia, and Fitness Manager Leticia.
The response to the campaigns were amazing with a significant increase in new female members and high levels of engagement from our existing female members, with both class bookings and general gym usage which increased by 27% on the previous month! The campaign response, combined with member feedback has seen five new classes added to the timetable, with three of these exclusively just for women.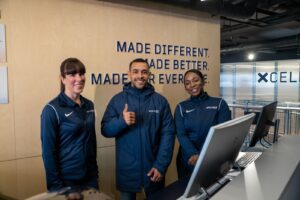 NFAs 2022 – Newcomer of the Year 
Thanks to the tireless and dedicated work of our team and trusted partners, we were able to open XCELERATE GYMS Edgware in the face of a global pandemic, with over 1000 members!
This was a phenomenal achievement which gave the gym a great platform from which to grow, and Edgware continues to go from strength to strength, playing a central role in helping large numbers of people from the local community to achieve their X and get fitter, healthier and feel XCELERATED after every gym visit!  
With the pre-sale starting in December 2020 and having been run throughout, the pre-sale ensured that despite the challenges of the national lockdown, the gym was in a profitable position from day one, a truly outstanding achievement and a great position on which to build as more and more members came through the doors to join XCELERATE.
For the company and our gym team to have been recognised for their achievements with this nomination is something that we are all very proud of.
On confirming the nominations Founder and CEO, Mark Chambers said, "Being finalists in two categories for the National Fitness Awards is a great achievement and more importantly, it recognises the hard work that all our teams put in everyday to make all our gyms a success. To have our campaign focused on engaging more females to join and engage with us makes me very proud and is exactly why we are Made Different, Made Better and Made for Everyone!"
"What we achieved in opening Edgware with more than 1000 members, with the pre-sale all the way through the national lockdown was unbelievable and for this to be recognised on a national scale is a testament to everyone in our team and our partners for their hard work and dedication."     
Already a finalist in this year's ukactive Awards, and now with two more nominations for the National Fitness Awards the brand continues to positively disrupt the sector.  To find out why, and what makes us different, better and a gym for everyone all you need to do is contact Sam Yates, Franchise Development Manager, on sam.yates@xcelerategyms.com or call 07507 723 374