Halloween is a day I have always enjoyed celebrating and with children it becomes even more fun. Pumpkin carving, fancy dress, trick or treating, decorating the house and sweets absolutely everywhere.
This year we are hosting a Halloween party and rather than buying the food from the shops I wanted to make some homemade Halloween themed snacks for the little devils who will be attending!
Here are some of my favourite ideas that I have found online and cannot wait to make. These are mostly quick, easy and healthy (with the exception of the chocolate bats) recipes that the children will be able to help you make too.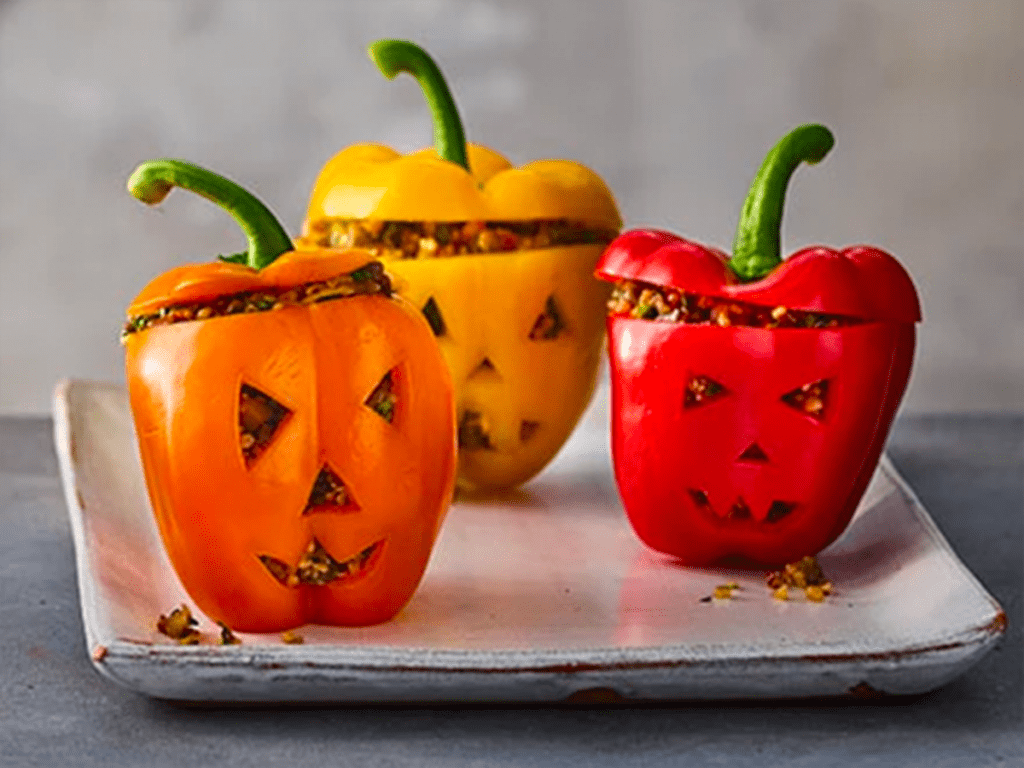 Healthy Halloween stuffed peppers
Credit – https://www.bbcgoodfood.com/recipes/healthy-halloween-stuffed-peppers
Celebrate Halloween with these spooktacular healthy stuffed peppers. They're perfect for a Halloween buffet or a family dinner ahead of trick-or-treating.
Ingredients
4 small peppers (a mix of orange, red and yellow looks nice)
25g pine nuts
1 tbsp olive or rapeseed oil
1 red onion, chopped
2 large garlic cloves, crushed
1 small aubergine, chopped into small pieces
200g pouch mixed grains (we used bulghur wheat and quinoa)
2 tbsp sundried tomato paste
zest of 1 lemon
bunch basil, chopped
Method
STEP 1
Cut the tops off the peppers (keeping the tops to one side) and remove the seeds and any white flesh from inside. Use a small sharp knife to carve spooky Halloween faces into the sides. Chop any offcuts into small pieces and set aside.
STEP 2
Toast the pine nuts in a dry pan for a few mins until golden and set aside. Heat the oil in the pan and heat the oven to 200C/180C fan/gas 6. Cook the onion in the oil for 8-10 mins until softened. Stir in the garlic, pepper offcuts and aubergine and cook for another 10 mins, until the veggies are soft. Add a splash of water if the pan looks dry. Season.
STEP 3
Squeeze the pouch of grains to break them up, then tip into the pan with the tomato paste. Stir for a minute or two to warm through, then remove from the heat and add the lemon zest, basil and pine nuts.
STEP 4
Fill each pepper with the grain mixture. Replace the lids, using cocktail sticks to secure them in place, and put the peppers in a deep roasting tin with the carved faces facing upwards. Cover with foil and bake for 35 mins, uncovered for the final 10. The peppers should be soft and the filling piping hot.
Credit – https://thishealthytable.com/blog/apple-monsters
These goofy apple monster mouths are fun to make and a hit with kids and adults alike! They're perfect for a healthy Halloween treat and are ready in just a few minutes.
I love that each one has such a silly expression! You'll have fun making each one look unique.
Ingredients
3 green apples
3 tablespoons creamy peanut butter
2 ounces of sliced cheese
2 tablespoons of pumpkin or sunflower seeds
A packet of edible eyes
Method
Quarter the green apples and slice off the core and seeds. Carefully cut out a V-shape into the centre of the apple quarter to create the mouth of the monster. Repeat with all the apple pieces.
Spread a thin layer of peanut butter into the monster mouths. Repeat with all apple slices.
Press several pumpkin or sunflower seeds onto the top of the mouth along the edge to form teeth. Repeat with all apple slices.
Place a triangular piece of cheese into each monster mouth. (Or if you don't like cheese use a slice of strawberry)
Using the remaining peanut butter, spread a small amount onto the back of the candy eyes and place them on top of the apple slices.
Serve immediately!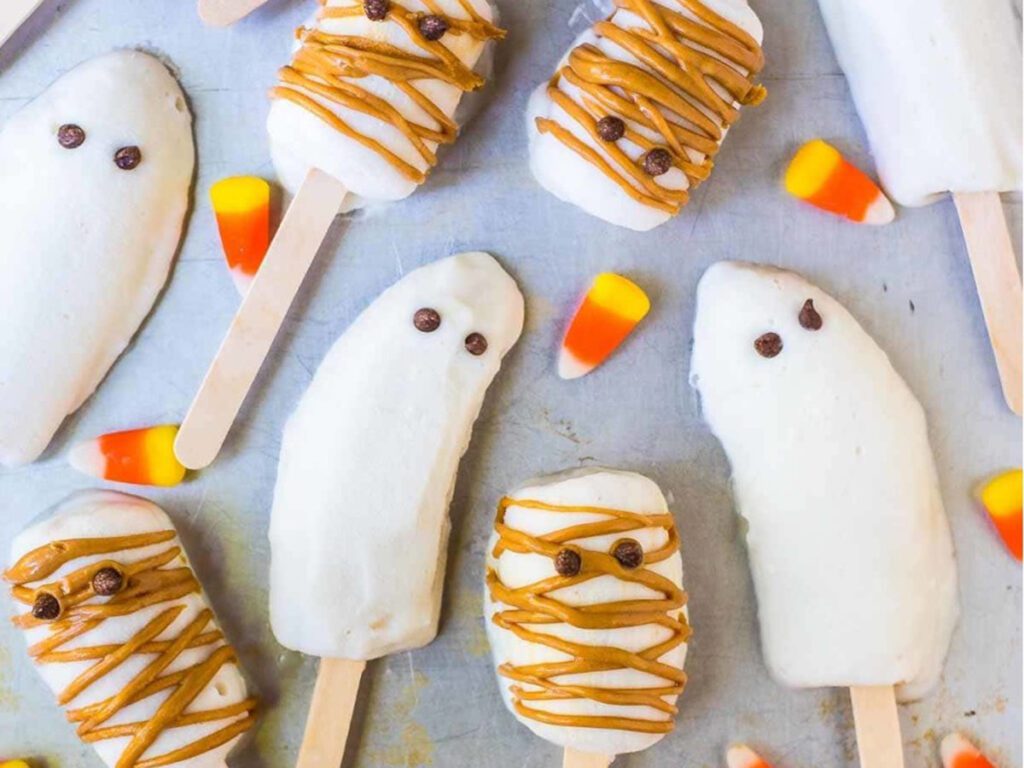 Halloween Banana Popsicles
Credit – https://www.wellplated.com/halloween-banana-popsicles/
Easy yogurt-dipped banana popsicles in the shape of mummies and ghosts. Fun to make with kids and the perfect healthy Halloween snacks for school or home.
Ingredients
4 large fresh bananas not overly ripe, or the bananas may be too soft
1 cup fat free Greek vanilla yogurt
2 tablespoons icing sugar
Mini semi-sweet chocolate chips for eyes
16 popsicle sticks
For the Banana Popsicle Mummies
1/3 cup creamy natural peanut butter
Method
Line a large baking sheet with parchment paper. Peel 2 bananas and slice each in half, cross-wise. Slice each half in half again the "long" way, so that you have 4 long, narrow pieces total. Carefully insert a popsicle stick into the bottom of each, then place on the baking sheet.
For the Banana Popsicle Mummies: Cut the pointy tips off of the 2 remaining bananas, then slice the bananas crosswise into 3 equal round "logs." Insert a popsicle stick into one end of each, then place on the baking sheet. Freeze all banana pops for at least 30 minutes or overnight.
In a small bowl, mix together the yogurt and icing sugar. Once the bananas are frozen, dip them into the yogurt mixture, then return them to the lined baking sheet. Place 2 mini chocolate chips on each of the ghosts for eyes. Do not place the eyes on the mummies yet. Return to the freezer for at least 1 hour to allow the yogurt to set.
For the mummies, place the peanut butter in a small, microwave-safe bowl, then heat until smooth and creamy, about 30-45 seconds, stirring as needed. With a small spoon, drizzle on top of the banana mummies to make "bandages." Place mini chocolate chips for eyes. Return to the freezer until the peanut butter is firm, about 30 additional minutes. When ready to serve, let the banana popsicles soften at room temperature for a few minutes. Enjoy immediately, or place in a freezer bag and freeze for up to 2 months.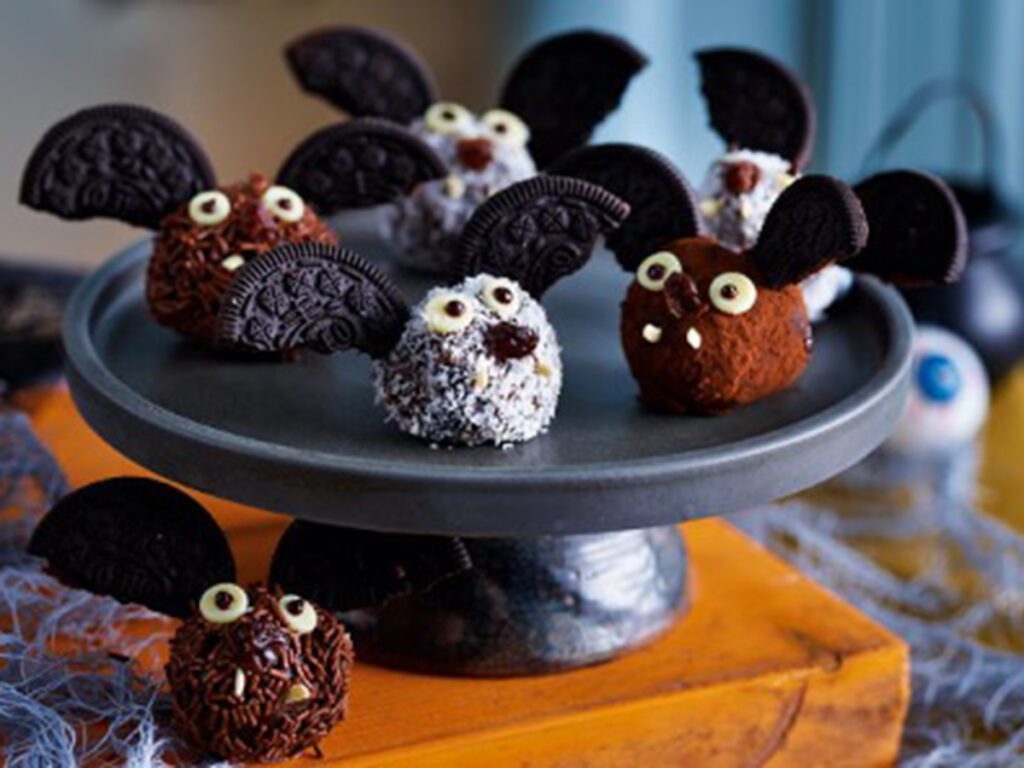 Credit – https://realfood.tesco.com/recipes/bat-bites.html
Cast a spell over your home this Halloween with some frightening sweet treats. These chocolatey bats will fly off the table before you can say boo!
Ingredients
175ml double cream
25g unsalted butter
225g dark chocolate, chopped
2 tbsp cocoa powder
2 tbsp chocolate vermicelli
3 tbsp desiccated coconut
6 Oreo chocolate cookies
24 white chocolate chips
chocolate writing icing
12 raisins, halved
white chocolate, grated
Method
Gently heat the double cream and butter in a small pan. Remove from the heat just before boiling and add the dark chocolate, stirring until melted. Pour into a small container and freeze for 1 hr, until solid.
Remove from the freezer and leave to stand for 5-10 mins. Using a tablespoon or melon baller, scoop out 12 balls onto a tray. Return to the freezer for 30 mins, then remove and smooth the balls with a palette knife if necessary.
Spoon 2 tbsp cocoa powder, 2 tbsp chocolate vermicelli and 3 tbsp desiccated coconut onto separate plates. Gently turn the truffles in the different coatings, covering 4 in the cocoa powder, 4 in the vermicelli and 4 in the coconut.
One by one, split 6 Oreo chocolate cookies in half with a knife, so you have 12 rounds. Break each biscuit in half and gently push into the truffles to make wings. Press 2 white chocolate chips into each truffle, then dot with chocolate writing icing for the eyes. Press a halved raisin onto each truffle as a nose, then 2 white chocolate flakes for teeth. Chill until ready to serve.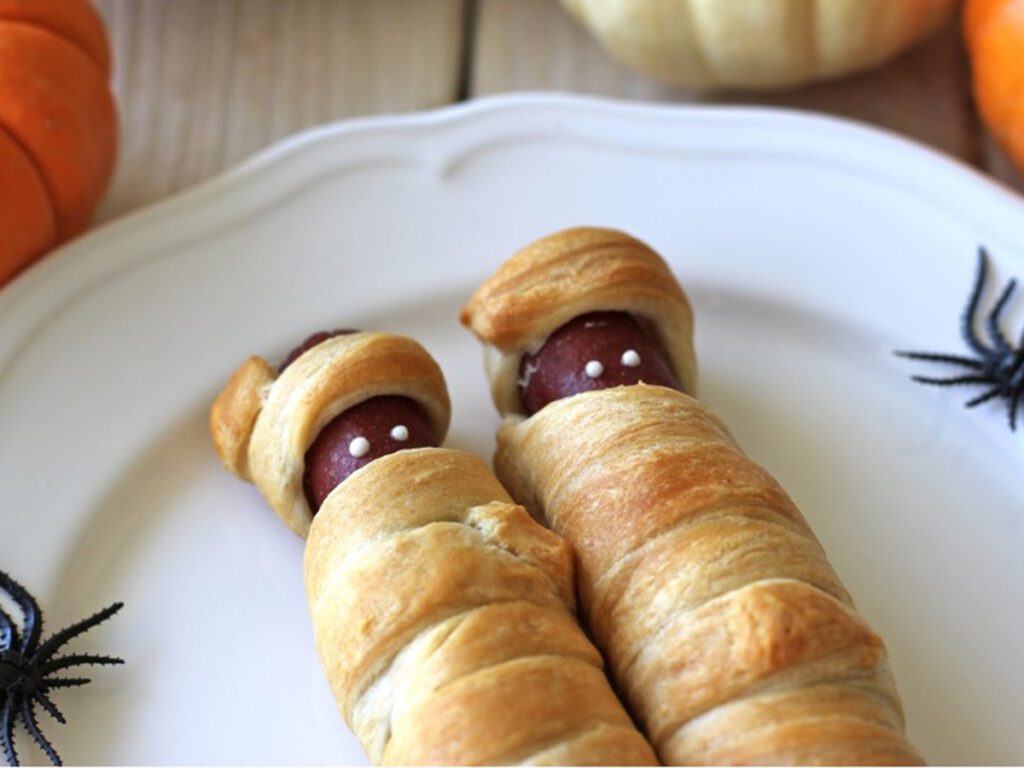 Credit – https://damndelicious.net/2012/10/28/mummy-hot-dogs-sundaysupper/
Ingredients
1 (8-ounce) tube crescent rolls (ready made croissant dough)
8 hot dogs
Mustard, for garnish
Method
Preheat oven to 375 degrees F. Line a baking sheet with parchment paper or a silicone baking mat; set aside.
Roll out the crescent rolls into one sheet, placing 2 triangles together by pinching the seams to make a square. Using a pizza cutter or sharp knife, cut each rectangle into 6 strips.
Wrap 3 strips around each hot dog, leaving a little space at the top for the "eyes."
Place into oven and bake until golden brown, about 20 minutes.
Let cool 5 minutes before adding dots of mustard for the "eyes." Serve immediately.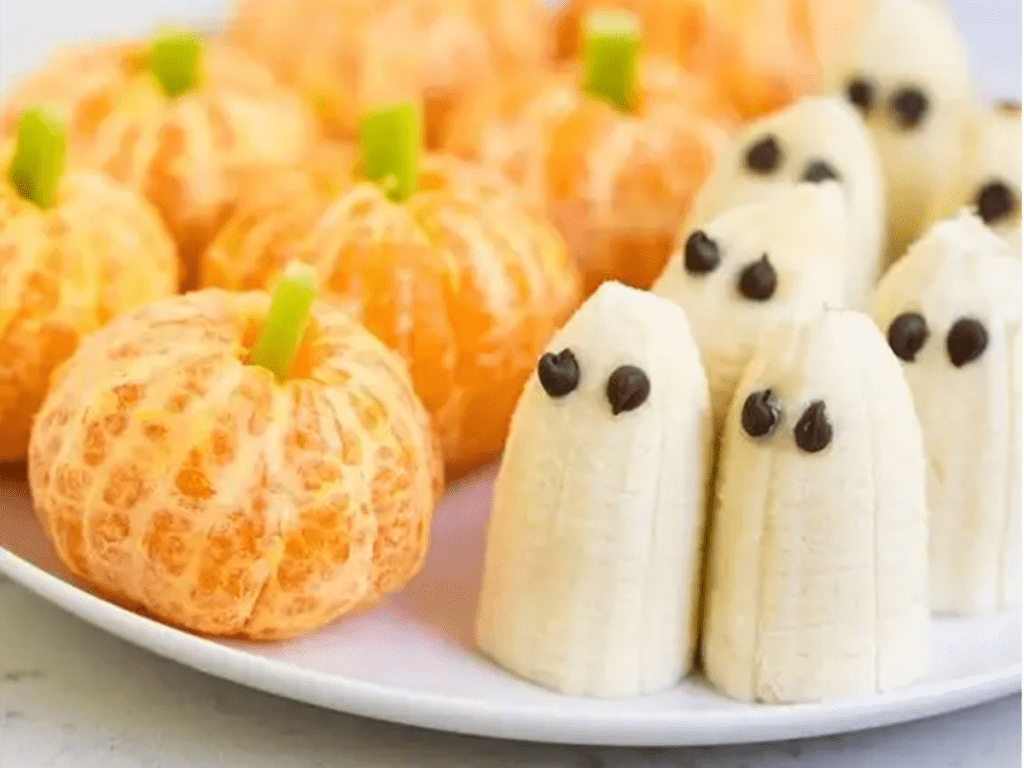 Banana Ghosts and Orange Pumpkins
Credit – https://delishably.com/holidays/Party-Food-Ideas-For-Halloween
This will be a hit with the younger set: banana ghosts with chocolate chip eyes and peeled mandarin oranges with a small stick of celery or cucumber for the pumpkin stem. Adorable!
Share your Halloween recipes with us below and tag us in your Halloween makes.