If you have read our previous blog all about the benefits of eggs you will know how amazingly good for you they are. Whilst researching eggs and their superpowers we came across so many delicious and healthy egg recipes we just had to share them.
Here are our top 4:
Shakshuka
https://www.bbcgoodfood.com/recipes/shakshuka
Ingredients
1 tbsp olive oil
2 red onions, chopped
1 red chilli, deseeded and finely chopped
1 garlic clove, sliced
small bunch coriander stalks and leaves chopped separately
2 cans cherry tomatoes
1 tsp caster sugar
4 eggs
Method
STEP 1
Heat the oil in a frying pan that has a lid, then soften the onions, chilli, garlic and coriander stalks for 5 mins until soft. Stir in the tomatoes and sugar, then bubble for 8-10 mins until thick. Can be frozen for 1 month.
STEP 2
Using the back of a large spoon, make 4 dips in the sauce, then crack an egg into each one. Put a lid on the pan, then cook over a low heat for 6-8 mins, until the eggs are done to your liking. Scatter with the coriander leaves and serve with crusty bread.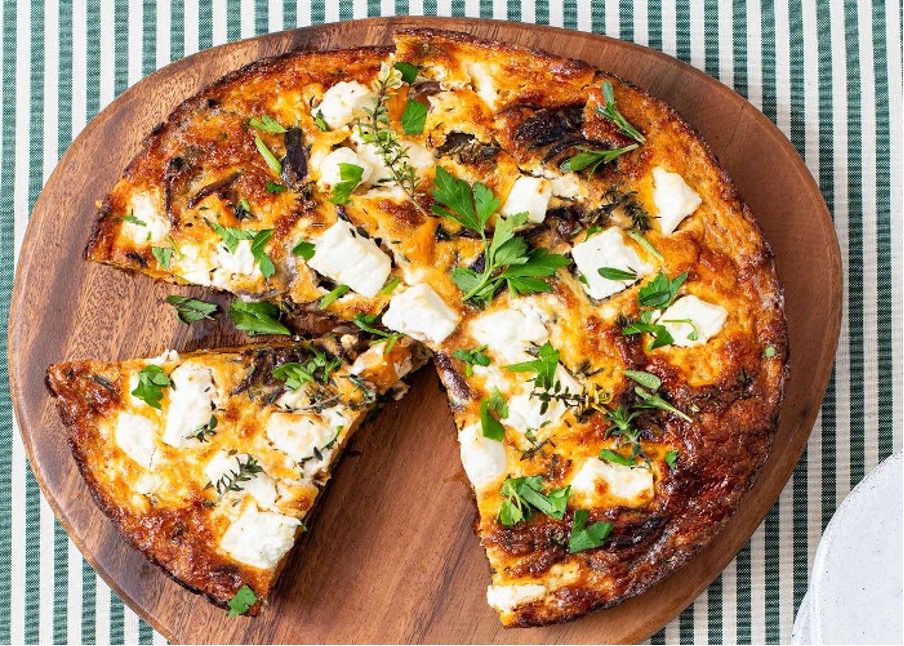 Sweet potato, feta and red onion frittata recipe
https://www.lovefood.com/recipes/121394/clodagh-mckenna-sweet-potato-feta-and-red-onion-frittata-recipe
Ingredients
300 g sweet potato, peeled and cut into 1cm (½in) cubes
1 tbsp butter
1 tbsp olive oil
2 red onions, very thinly sliced
1 garlic clove
1 tsp thyme leaves, plus small sprigs to serve
1 tbsp balsamic vinegar
1 tbsp flat-leaf parsley, chopped, plus extra to serve
6 large eggs, beaten and liberally seasoned
125 g feta
Method
Bring a large saucepan of salted water to the boil and cook the sweet potato for 8–10 minutes or until tender. Drain well.
While the potato is cooking, heat the butter and olive oil in a large, ovenproof frying pan over a medium heat and add the red onions. Fry the onions for 8 minutes until nicely caramelised and soft.
Add the garlic, thyme and balsamic vinegar and fry for a further 2 minutes until the garlic is fragrant and the vinegar has evaporated.
Stir the parsley through the onions, then scatter the sweet potatoes around the pan.
Pour over the beaten egg and swirl it around to fully cover the base of the pan. Break the feta into chunks and scatter over the egg.
Cook over a low heat for 5–6 minutes until the sides and the underside of the frittata are starting to look set.
Transfer to a hot grill for 3–4 minutes or until the top of the frittata is golden and it is set all the way through. Scatter over some thyme and parsley to serve.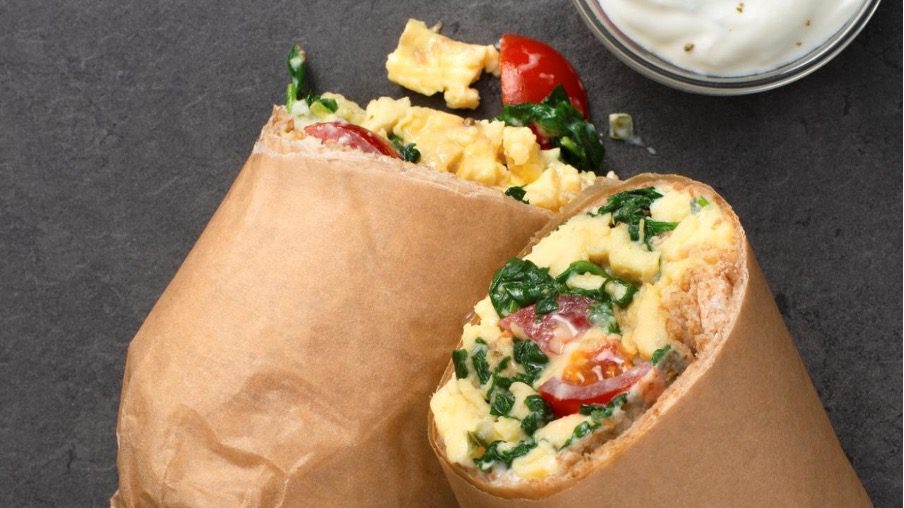 Greek Burrito Snack Wrap
https://www.eggs.ca/recipes/greek-burrito-snack-wrap
Ingredients
2 eggs, beaten
1 tbsp ( 15 mL ) olive oil
¼ tsp salt and pepper
¼ tsp dried oregano
1 cup ( 250 mL ) baby spinach
2 tbsp tzatziki sauce
2 whole wheat flour tortillas (7-inch/18 cm)
¼ cup halved cherry tomatoes
2 tbsp crumbled feta cheese
Method
Heat oil in large non-stick skillet set over medium heat; add eggs, salt, pepper and oregano. Reduce heat to medium-low; cook, moving spatula across bottom and side of skillet as mixture begins to form large, soft curds.
Stir in spinach; cook until eggs are thickened as desired.
Spread tzatziki sauce down along centre of each tortilla, leaving 1-inch (2.5 cm) border at top and bottom. Top with scrambled egg mixture, tomatoes and feta. Fold up bottom of tortilla over filling, then fold in sides; starting from bottom, roll up tightly.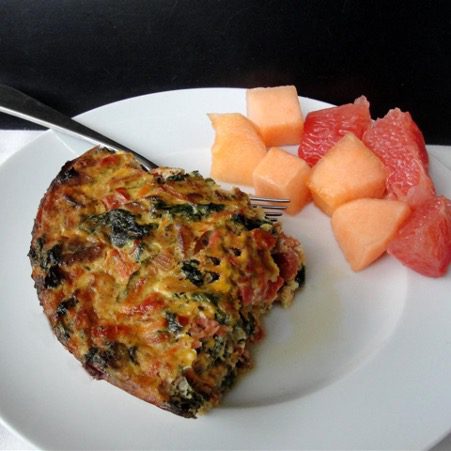 Summer Garden Crustless Quiche
https://www.allrecipes.com/recipe/233141/summer-garden-crustless-quiche/
Ingredients
1 teaspoon olive oil, or as needed
1 tablespoon olive oil
1 yellow onion, minced
3 cloves garlic, minced
5 cups chopped kale
¼ teaspoon kosher salt
2 grinds fresh black pepper, or to taste
1 cup diced tomato
½ cup shredded carrots
5 eggs
¾ cup whole milk
7 ½ ounces shredded Cheddar cheese
¼ cup chopped flat-leaf parsley
Method
Step 1
Preheat oven to 350 degrees F (175 degrees C). Grease a 9-inch pie dish with 1 teaspoon olive oil.
Step 2
Heat 1 tablespoon olive oil in a skillet over medium heat; cook and stir onion and garlic in the hot oil until garlic is fragrant, 2 to 3 minutes. Add kale, salt, and pepper; cook, stirring occasionally, until kale is wilted, about 5 minutes. Stir tomato and carrots into kale mixture; cook for 5 more minutes. Remove skillet from heat.
Step 3
Whisk eggs and milk together in a bowl. Stir Cheddar cheese, kale mixture, and parsley into egg mixture; pour into the prepared pie dish.
Step 4
Bake in the preheated oven until quiche is set in the middle and a knife inserted in the centre comes out clean, about 50 minutes. Cool in pie dish for 2 to 3 minutes before slicing.
What are your favourite egg dishes?